can be used by everyone, who conducts clinical trials.
---
With ecrom you have the possibility to conduct clinical trials faster and easier
---
Through this easy and dynamic generation of templates patients can easily be involved in the process in an early stage. Through this it is possible to include individual requirements (for example elderly people and children as well as disabilities such as visual disorder).
---
Data security is highly important to us!
---
The requirements of a "privacy by design" will be taken for granted (3-factor-authentification, "privacy be default, etc.) Moreover, sensible personal data will be anonymised and pseudonymized and all data will be encrypted. Additionally, a deleting option of personal data is included in ecrom without negatively influencing the evaluation options.
---
Advantages in every field!
---
In the field of diabetes-research the integration of Wearables is paramount. These enable an easy transfer of motion sequences, which provides an uncomplicated transcription of motion sequences and measurement results can be directly transferred to ecrom. This lead to an increase in patient comfort.
---
Because of lower training effort und the easy and fast configuration, also smaller study centres with less experienced employees can conducts clinical studies. Moreover, it is possible that various study centres can work together on studies. For doctors and study nurses the standardised and automatically generated data collection results in a significant reduction of work load regarding verification and validation.
---
The continuous evaluation possibilities allow the responsible person to achieve a higher level of control and enable them to adapt the parameters of the study if necessary. Due to the easy handling and the elimination of a large amount of manual work such as entries, controls and manual data transfer more studies can be executed during the same period of observation.
---
As a result, additional revenues for clinics can be generated through study sponsoring and, through the study results, the life quality of study participants can be improved. Especially for pharmaceutical companies the efficiency enhancement regarding the conduct of clinical studies is highly relevant. Besides the well-being of the participants, also the factor cost plays an important role for profit-oriented companies.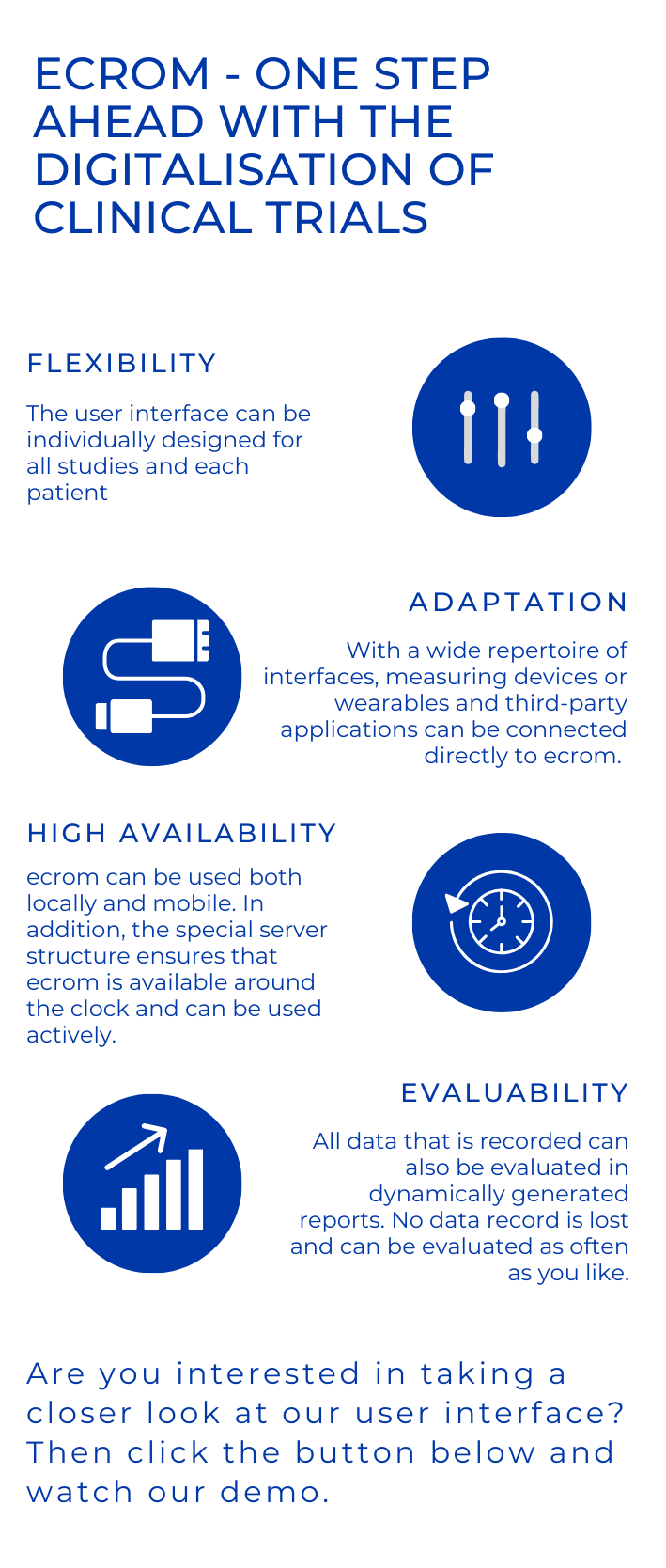 Your advantages at a glance
With ecrom you receive the chance to plan and conduct patient-centeredbv studies with a modern, generic tool. Due to the easy and flexible handling it is possible to address the individual needs of different patient groups. Moreover, it can be implemented into the system quickly and efficiently. Therefore, the data quality can be risen significantly and the effort for manual data input/entry and data maintenance can be reduced drastically, which can lead to a higher motivation of the patient. Moreover, temporal and hierarchical dependencies can be mapped. The individual configurability of ecrom7 means that special patient needs can be met flexibly. So people of all ages and restrictions can work with it. In addition, the biological, psychological and social differences between men and women can be dealt with ("gender research").
Increase of the adherence to treatment (compliance)
Rise in health competence
Long-term assurance of optimal treatment of patients
Reduction of the termination rate
Increase of the brand awareness for doctors and patients
Collection of relevant data for the regulatory authorities
Collection of relevant data for patient-centered research
Possible application in the field of patient-centered disease management programs (DMPs)
Integration of Wearables, which allows a simple transfer of motion sequences
Wearables can transfer measurement results directly to the ecrom7. This drastically increases patient comfort.
Significant reduction in verification and validation efforts through automated / semi-automated recording
Significant reduction in manual work, allowing more studies to be conducted
Fast configuration and low training costs enable smaller study centers to carry out studies quickly and successfully.